I've posted about this before in the TV on DVD section but no discussion of classic television would be complete without mention of these two series!
Completely puncturing all the news trickery to create spot on parodies of either the pomposity of 'serious news' programmes in The Day Today or the fluffiness of tabloid style magazine programmes pretending to investigate a supposedly important subject in depth in Brass Eye, these shows become more and more important as time passes!
Perhaps the best thing I can say about it is that whenever the real news upsets me with its pat comments and casual distortions just a few minutes of these shows can cheer me up!
The Day Today hits perfectly the attitude of having sorted out all the worlds problems in their half hour show while casually espousing all their own racial, class and sex stereotypes and just basically treating everyone they come into contact with like dirt whether it is goading the diplomats of the UK and Australia into declarations of war or making the organiser of London's first jam festival cry on air by telling her what a stupid idea it was (and then panning up close to her tearful face as she breaks down).
Brass Eye also treads the fine line between comedy and making a serious condemnation of the media's treatment of the people it comes into contact with, casually calling an elderly couple a "rattly pair of old puffins" or making comments such as "It could have so easily been like that for me but luckily the amount of heroin I use is harmless. I inject about once a month on a purely recreational basis. Fine. But what about people less stable, less educated, less middle-class than me? Builders, for example, or blacks?", or on
the media's differentiation between 'good' and 'bad' AIDS
Then there are just the incredibly funny parodies such as a
sanitary towel advert by Nirvana!
or BBC2 and their 'nights' of programmes in
Attitudes Night
!
Brass Eye also comments on the celebrity culture of people adding their names to faked campaigns. The agony aunt Claire Rayner's
shocked reaction
to the Japanese commercial allowing drugs to be taken legally using an animal as a medium, the "Cani-bliss dog puffer", is perhaps my favourite!
My favourite parts of both series were the graphics illustrating spurious points in the most over the top way possible!: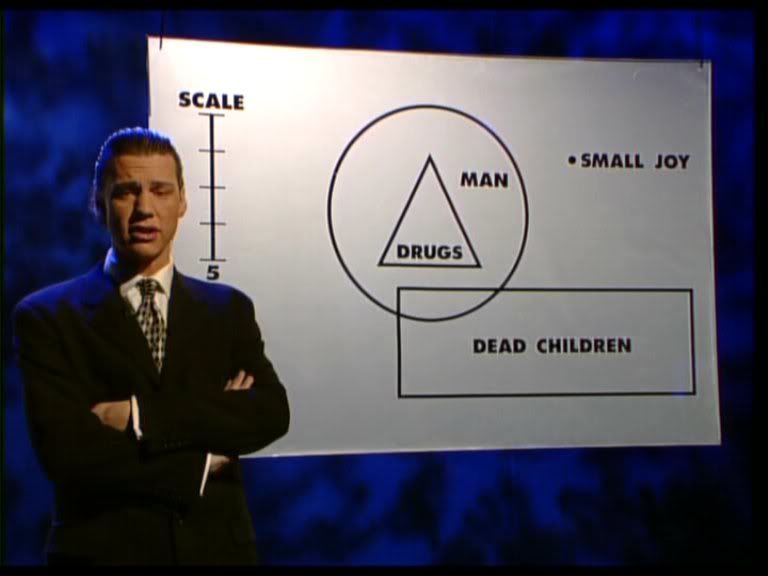 EDIT: To change the years of transmission to the correct ones!